Preamble: Hip displacement is the 2nd most common musculoskeletal problem in children with cerebral palsy (CP). More than one-third of the children are affected by this problem. Hip displacement in CP is often silent until the hip is dislocated, resulting in pain, gait disturbances, impaired sitting balance, difficulty in perineal care and pressure sores. It is now well-known that hip surveillance programs can detect hip displacements early, leading to earlier proactive management with better outcomes. National & provincial hip surveillance programmes have been developed and adopted in various regions of the world, with evidence supporting the role of surveillance in preventing dislocations and avoiding the need for salvage surgery. It is also known that the incidence of hip problems is much higher in the non-ambulant, GMFCS level IV and V patients and they require closer observation. India does not have a hip surveillance program and it was felt that this should be established at the earliest possible time. To offer similar benefits to Indian children with CP, a National Hip Surveillance Program for Cerebral Palsy was initiated. As a first step, this guideline was developed with the Indian context in mind.

The advantages of such a program include:
Early detection and management of hip problems in patients with cerebral palsy with better outcomes
Documentation of such cases for follow up and scientific research
Creation of awareness of this problem amongst professionals and families
Form the basis for future legislation
Steps for establishing a National CP Hip Surveillance Program
Professional organisations whose members are involved in the care of children with CP were involved in the formation of this guideline. A National Expert Committee was constituted comprising of senior members from POSI, Indian Academy of Cerebral Palsy (IACP), IAPMR (Indian Association of Physical Medicine & Rehabilitation), AIOTA (All India Occupational Therapists Association), Association of Child Neurology (AOCN), IAP (Indian Association of Physiotherapists), IOA (Indian Orthopaedic Association) and IAP (Indian Academy of Paediatrics). Advice was sought from international experts on this topic who acted as the Advisory Committee.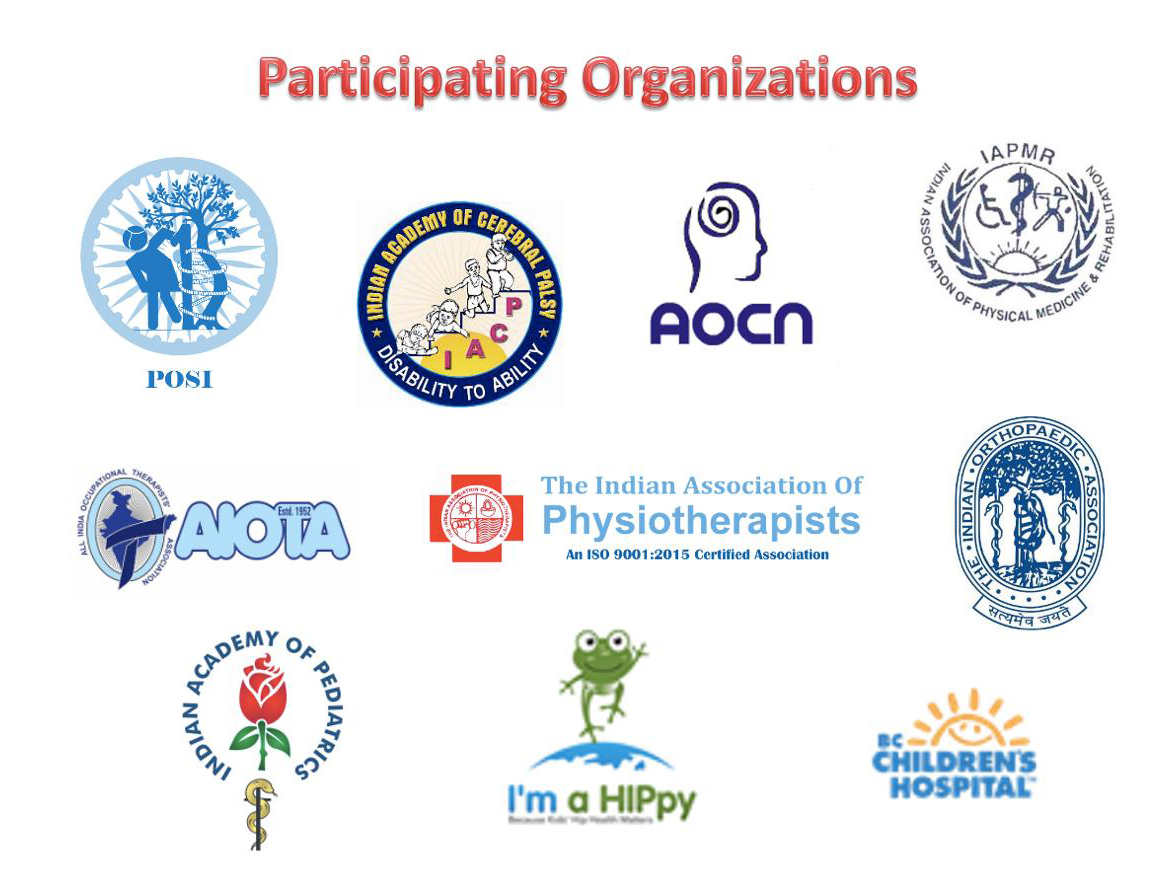 During Phase I of the project (May – Sept 2020), a very detailed literature review was conducted by members of the committee under 8 different modules, covering natural history & risk factors for hip displacement in CP, existing global surveillance systems, radiology, outcomes, management and review of Indian literature on the topic. This was mainly to sensitize the group to the problem and creating awareness about the magnitude of the problem and gaps in evidence. We then moved on to Phase II – the actual development of Indian guidelines using established international guidelines, evidence from literature and consensus-building using the Delphi approach. The guidelines are now finalized and ready to be published. We will begin the 3rd phase of implementing various tools for active dissemination of the guidelines. These will include online resources, publications, mobile apps, e-learning modules, integration with existing clinical decision support systems, social media, press releases, CMEs & conferences etc. We also plan to liaise with existing government initiatives such as the Rashtriya Bal Swasthya Karyakram (RBSK) so as to ensure widespread implementation even in the public health sector.

POSI is extremely grateful to the research team at BC Children's Hospital, Vancouver, Canada for providing academic inputs, technical expertise, access to their REDCap database for conducting surveys and the Delphi process, ethics approvals, and a dedicated research student to co-ordinate and assist in both projects. We also thank the International Hip Dysplasia Registry (IHDR) & I'm a HIPpy for committing to provide educational grants to fund various expenses we are likely to incur during the guideline development and implementation phases of both projects.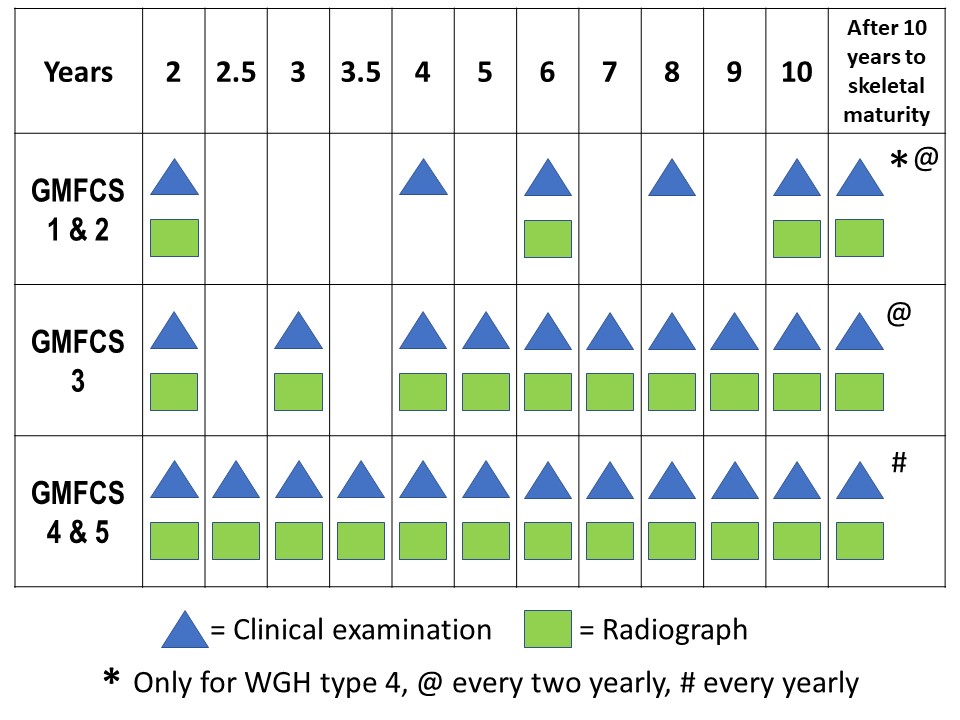 Figure: Hip Surveillance for various levels of GMFCS at a glance


NATIONAL GUIDELINES COMMITTEE


STEERING COMMITTEE
Dr. Ashok N. Johari
Paediatric Orthopaedic & Spine Surgeon, Children's Orthopaedic Centre, Mumbai, India
Dr. Dhiren Ganjwala
Consultant Paediatric Orthopaedic Surgeon, Ganjwala Orthopaedic Hospital, Ahmedabad
Dr. Alaric Aroojis
Hon. Consultant, Paediatric Orthopaedics, Bai Jerbai Wadia Hospital for Children, Mumbai
ADVISORY BOARD
Dr. Kishore Mulpuri
Paediatric Orthopaedic Surgeon, BC Children's Hospital, Vancouver, Canada
Stacey Miller
Lead Physiotherapist, BC Children's Hospital, Vancouver, Canada
Dr. Abhay Khot
Paediatric Orthopaedic Surgeon, Royal Children's Hospital, Melbourne, Australia
Dr. Mohan Belthur
Attending Paediatric Orthopaedic Surgeon, Phoenix Children's Hospital, Phoenix, AZ, USA
COMMITTEE MEMBERS
Dr. Sakti Prasad Das
Director, SV NIRTAR, Orissa
Dr. Anand Varma
Dept. of Physical Medicine & Rehabilitation, Karnataka Institute of Medical Sciences, Hubballi
Asha Chitnis
Consultant Paediatric Therapist, Vedanta Programs, Mumbai
Madhavi Kelapure
Paediatric Physiotherapist, Deenanath Mangeshkar Hospital, Pune
Trupti Nikharge
Occupational Therapist, B.Y.L.Nair Hospital
Dr. Meenakshi Murthy Girish
Professor & Head, Paediatrics, AIIMS, Nagpur
Dr. Leena Srivastava
Head, Child Development and Guidance Centre, Bharati Vidyapeeth Medical College and Hospital, Pune
Dr. Anaita Udwadia-Hegde
Consultant Paediatric Neurologist, Jaslok Hospital and Research Centre, Mumbai
Dr. Surekha Rajadhyaksha
Professor and Chief of Paediatric Neurology and Epilepsy, Bharati Vidyapeeth Hospital, Pune
Dr. Mahesh Kamate
Professor of Paediatric Neurology, KAHER's JN Medical College, Belagavi
Dr. Sandeep Patwardhan
Professor of Orthopaedics, Paediatric orthopaedics, Sancheti Institute for Orthopaedics and Rehabilitation, Pune
Dr. T.S. Gopakumar
Professor of Orthopaedics, MES Medical College, Perinthalmanna, Malappuram
Dr. P N Gupta
Professor, Department of Orthopaedics, Govt. Medical College Hospital, Chandigarh
Dr. Jayanth Sampath
Consultant Paediatric Orthopaedic Surgeon, Rainbow Children's Hospital, Bangalore
Dr. Binu Kurian
Consultant Paediatric Orthopaedic Surgeon, St. John's Medical College Hospital, Bangalore
Dr. Abhay Gahukamble
Assistant Professor, Dept of Orthopaedic Surgery at Christian Medical College and Hospital, Vellore
Dr. Sanjay Wadhwa
Professor, Dept. of PMR, AIIMS, New Delhi
Punita V. Solanki
Occupational Therapist, Mumbai
Dr. Rekha Mittal
Additional Director (Paediatric Neurology), Madhukar Rainbow Children's Hospital, New Delhi
Aijaaz Ashai
Director & HOD, Adams Wylie Physio Rehab Center, Mumbai